Hello everyone!!
BIG NEWS: We're launching in NYC this week!! We have a series of launch events to share with you alongside some amazing partners, and would love to see your beautiful faces out & about as we create queer, kinky, sex-positive community :)  On the festival front, we're featuring our partners at Sum of Us, Woodhull's Sexual Freedom Summit, the Mystical Womxn's Magic Fest, and THRIVE: BDSM & Mental Health Conference. We're so excited to uplift these groups working towards LGBTQ+ inclusion, sexual freedom, and de-stigmatizing mental illness in kink.  We also have our regular roundup of events in the Bay Area, LA, and virtually as opportunities for you all to connect. Have a great week everybody! We appreciate you. <3 
BLOOM NEWS: We're Launching in NYC!!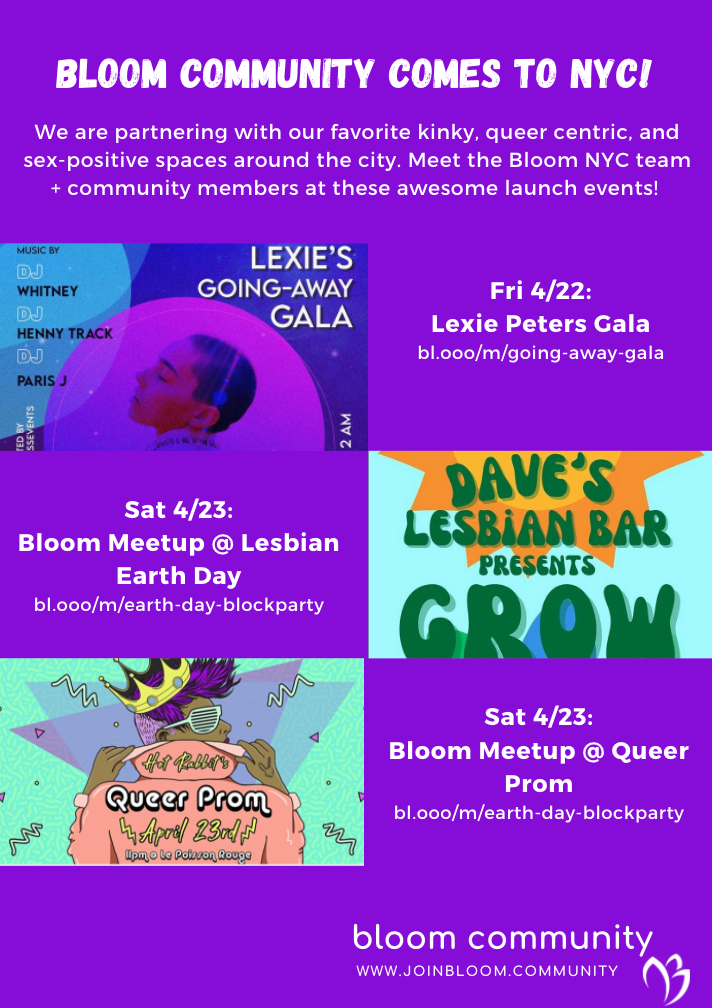 Join the Bloom team + community members for our official NYC launch party!! We'll get drinks and then head over to Hot Rabbit's infamous annual dance party: a big QUEER PROM like you always wanted! Come stag or grab a corsage for your date - Either way it's time to dress to the nines & party like it's 1999! Meet the Community
NYC LAUNCH EVENTS
Click the links below to join the fun!! See a full list of events here.
BLOOM SPOTLIGHT: Sum of Us
The Bloom Team + Community are so excited to be heading to the Sum of Us Festival May 20-22, 2022 in the world-famous Yosemite, CA! Sum of Us is the leading wellness community for LGBTQ+ women, trans identities, and gender expansive folks. Join us for a 3 night, 2 night event that creates a safe, reimagined space where conscious community members can authentically heal, learn about ourselves, and connect with each other on a deeper level. ASL, PTASL, and disability access provided. Whether you partake in our workshops, keep it campy, fill your days with visiting vendors, listen to life-changing panels, swim in the water holes, celebrate into the evening, or choose to participate in every aspect...this is your adventure. Join the Bloom event to see who's going and connect with other attendees: https://bl.ooo/m/sumofus22news. Sum of Us Festival 2022 is sold out, but JOIN OUR WAITLIST (to get a ticket for this year or be first in line for 2023!  Join the Waitlist
BLOOM SPOTLIGHT: Woodhull's Sexual Freedom Summit 
From policy to privacy, closed doors to open relationships, the white picket fence to the dungeon, this is the event where the conversations happen and the vision for the future comes to life. Woodhull Freedom Foundation is pleased to invite you to our 12th annual Sexual Freedom Summit – the event where everything comes together in spectacular conversations about sexual rights. 
The Sexual Freedom Summit features human rights activists, sexuality educators and researchers, professionals from the legal and medical fields, authors, sexual freedom movement leaders, and organizational partners all working toward the time when sexual freedom is fully recognized as a fundamental human right. See you there!
BLOOM SPOTLIGHT: Mystical Womxn's Magic Fest
Join us in July for Mystical Womxn's Magic Fest, a sex-positive, participatory festival where you can refresh, renew, and create deep connections. July 5-10 on The Land near Hart, Michigan. Our workshop lineup includes a track devoted to polyamory/ENM, and our Polyam Team is busy planning social events throughout the week! Live music, comedy, drumming, poetry readings, spiritual rituals, vendors, dancing, play parties, late-night fires, and more!
We welcome all womxn: cis and trans women, and nonbinary and trans-masculine folx. We welcome folx of all sexual and relationship orientations. Come feel the rhythm of sacred, sexy connection! www.mysticalwomxnsmagicfest.com. Connect on Bloom
SOCAL HIGHLIGHTS (LA + SD)
BLOOM SPOTLIGHT: THRIVE: BDSM & Mental Health
THRIVE is a 3-day virtual conference aimed to bring mental health awareness, smash stigma, build support, and provide a space for BDSM/Kink/Leather Folx to learn, grow, and connect by moving through shame and discovering the warrior within. This is a completely free and all virtual conference with a full schedule of classes, workshops, and activities to join! Join on Bloom
VIRTUAL HIGHLIGHTS
See you soon!  In community, Bloom Team